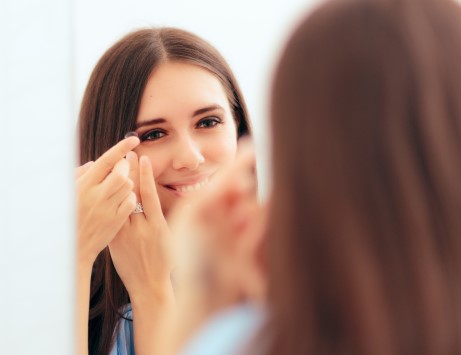 An Affordable Option
Contact lenses are a great alternative to prescription eyewear. They give you a more natural vision, allowing you to use your entire field of view and maximize your peripheral vision. Contacts never have reflections from light and will never fog up. There are also several options to fit your eye care needs.
Whether you have dry eyes or astigmatism, there is a contact lens choice for you. Colored contacts are extremely fashionable, and will add an entirely new dimension to
your wardrobe.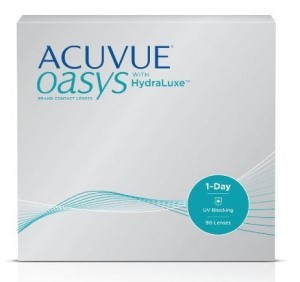 ACUVUE® OASYS 1-Day with HydraLuxe® Technology
The Lens Your Eyes Would Choose™, making it the premier choice for patients seeking a high performance daily disposable contact lens. Providing exceptional vision and performance, ACUVUE® OASYS 1-Day is designed to integrate with the eyes' natural tear film, providing all-day comfort that's gentle on the eye.*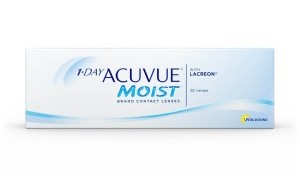 1-DAY ACUVUE® MOIST Contact Lenses
Proven performance you can trust, 1-DAY ACUVUE® MOIST integrates premium EYE-INSPIRED™ Innovations for an exceptional vision experience within reach.*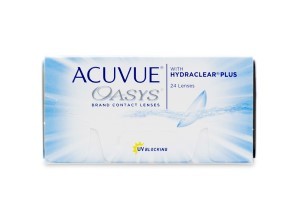 ACUVUE OASYS® with HYDRACLEAR® PLUS Technology
Almost 1 in 3 new spherical contact lens wearers drop out in the first year, and comfort issues are the top reason.1 You can trust the brand family of 2-week reusable contact lenses that has never been beaten in comfort in 20 clinical studies. ACUVUE® OASYS Brand with HYDRACLEAR® PLUS Technology blocks greater than 90% of UVA rays and greater than 99% of UVB rays, meeting the strictest UV-blocking requirements, offering the highest levels of UV blocking available in contact lenses.*
*For more information on Johnson&Johnson vision products, visit jnjvisionpro.com
ACUVUE OASYS® MAX
LIFE DEMANDS MORE OF YOUR EYES
The new ACUVUE® OASYS MAX 1-Day contact lenses are intentionally designed with innovative technologies to help with today's digitally intense lifestyle. Learn more, click here.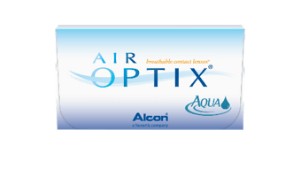 AIR OPTIX®
From clear to color to extended wear, AIR OPTIX® offers a full family of lenses to meet your needs. The AIR OPTIX® family of breathable contact lenses lets you focus on your life, not your contact lenses. While using CLEAR CARE® PLUS or OPTI-FREE® PUREMOIST® for daily cleaning and disinfection, they provide clear vision and consistent comfort. Plus, the monthly replacement schedule is easy to remember.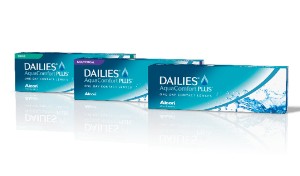 DAILIES® AquaComfort Plus®
All DAILIES® contact lenses are designed with advanced technologies to provide exceptional vision and comfort. DAILIES® AquaComfort Plus® contact lenses offer blink‑activated moisture for all-day comfort and are the perfect starter contact lenses. DAILIES® AquaComfort Plus® Multifocal contact lenses provide clear vision up close, far-away and everywhere in between. DAILIES® AquaComfort Plus® Toric contact lenses correct astigmatism and provide consistent clear vision all day.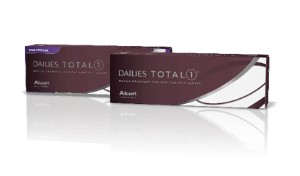 DAILIES TOTAL1®
DAILIES TOTAL1® contact lenses create a cushion of moisture on your eye making them so comfortable, you'll forget you're wearing them. It is the first and only daily disposable contact lens to offer water gradient technology so all that touches your eye is a cushion of moisture. DAILIES TOTAL1® Multifocal contact lenses are specifically designed to help you focus on things up-close for presbyopia, a condition that usually happens around age 40 as the lens of the eye stiffens.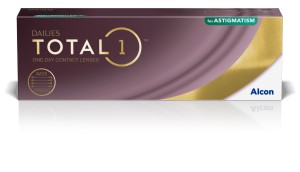 DAILIES TOTAL1® for Astigmatism
THE FAMILY IS NOW COMPLETE!
The first water gradient toric contact lens for patients with astigmatism.
Outstanding Stability, Clarity and Comfort.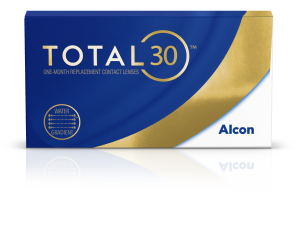 TOTAL30®
EXPERIENCE THE JOY OF NOTHING
TOTAL30® are the world's first and only monthly replacement Water Gradient contact lenses, so all that touches your eye is a gentle cushion of moisture.
With nearly 100% water at the surface, all that touches the eye is a gentle cushion of moisture. Water Gradient Technology creates a lens that is nearly 100% water at the surface. For one highly breathable incredibly comfortable monthly contact lens. CELLIGENT® Technology helps resist deposits and bacteria for a clean lens (based on laboratory testing of unworn lenses).