Routine Eye Exams to Maintain Eye Health
Did you know that annual eye exams can prevent, slow down and correct vision problems before they threaten your eye health? Here are three reasons why you should schedule an annual eye exam:
Vision screenings are not a substitute. Only a comprehensive eye exam can ensure you not only see clearly, but that you're also free from potential eye health issues.
Eye diseases can go undetected for a long time and possibly lead to vision loss. Serious eye health issues (including myopia, glaucoma, cataracts, macular degeneration and detached retinas) are more treatable when caught at the earliest stages.
In addition, comprehensive eye exams can detect other health problems (including diabetes, high blood pressure, and high cholesterol, among others).
An Independent Doctor of Optometry is conveniently situated at every Sterling Optical location. So call today and schedule your appointment. Your eyes will thank you for it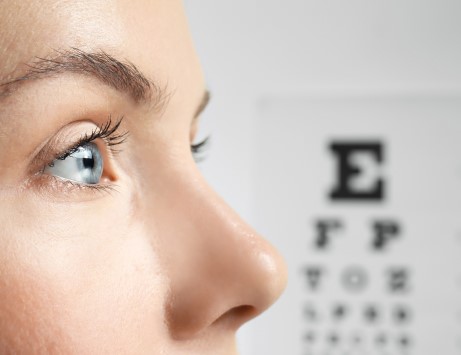 In-Store versus Online
Shopping online can save you time and money–but could cost you quality, style and fit. Here are a few reasons why the in-store buying experience is best when shopping for your next pair of eyewear:
Each person's prescription is unique, and some frames will be a better fit for their lenses than others.
Also, there are many choices in lenses–from self-tinting lenses, lenses that protect from blue light (e.g.,computers, tablets, and phones)–and different materials. Opticians at Sterling Optical will help with the fitting process by paying attention to specific details, including bridge and temple fit.
Each location has an Independent Doctor of Optometry who can verify prescriptions, in addition to opticians who will measure pupil distance (PD).
Opticians have the expertise and experience to help you choose shapes and styles that fit your face and lifestyle–as well as budget.
Our frame selection is curated and includes a variety–from popular brands to bespoke designers with limited selections. Our staff can help work with the manufacturer in everything from purchasing to repairs, if necessary.
Our team is dedicated to providing you with the eye care services that you need and the brands you want, at the price that works for you. Check out our latest offers on frames, lens, and contact lenses.
Eye Health and Injury Prevention
The single most important thing you can do to take care of your eye health is to get a comprehensive eye exam on an annual basis. In addition, there are a number of other practices you can adopt to keep your eyes healthy:
The 20/20/20 rule: For every 20 minutes spent looking at a computer monitor, look at something 20 feet away for 20 seconds to maintain your eyes' focusing system.
Moisturize your eyes in flight: Airplane cabin air is quite dry, so use artificial tears once every hour.
Block the sun: The sun's UV rays can hurt your eyes and increase your risk of cataracts, macular degeneration and pterygium, so make sure your eyeglasses or contact lenses offer UV-protection.
The right light: If you like to read in bed, choose a light bulb that is bright enough so that you can see the words without straining (but not so bright that you see a glare).